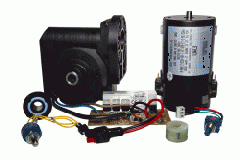 With the Golf Season soon to explode into life, more and more Golfers slowly returning to the Fairways following their Winter Hibernation. Its time to ensure your equipment is up to the rigors of regular weekly golf.
Anyone with a Powakaddy or Hillbilly Trolley can bring it into us for a Pre-Season Service and MOT. We'll even check and Test your Battery and Charger. You'll be given a full print-out after the tests to show the performance and health of your Battery and Charger. We'll also include an advisory notice, should we find anything on your Trolley that requires attention. You are then Welcome to discuss whether you want us to repair the required items and discuss the price.
The basic service and check costs ?20. Please call in to see us.