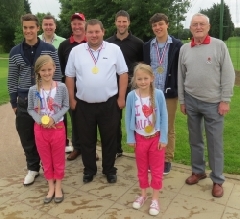 At the weekend Sudbrook Moor Golf Club joined the Royal Year of Jubilee with its own anniversary milestone, having opened its gates to local golf 25 years ago. To recognise that ?Golf is the game of a Lifetime? and highlighting golf as a game that can be played at any age, the proprietors staged a 9 hole competition for the whole of the membership.
That ?Olympic Challenge? was taken up by 90 golfers, with the youngest being Toby Edwards, aged 8, who plays off a 35 handicap. The most senior was Bob Fulcher, who doesn?t mind admitting his 88 years, playing off 28. Bob and golfing buddy, Russell Williams, brought in the final scorecards on a warm and mainly dry day. The youngest and newest ?sudbrookmoor Tigers?, aged 4 to 11, competed over a 6 hole putting course.
The golf course looked at its best, manicured and mature, exemplifying its original concept of being a fair challenge to any golfer.
The trophies and prizes were donated by the proprietors, Tim and Judith Hutton, and all of the day?s proceeds of ?647 are to be forwarded the Grantham branch of Marie Curie Cancer Care, the club?s long standing nominated charity, having enjoyed very close relationships over 18 years.
The Club continues its 25 year mission to provide affordable golf that is available to anyone and everyone and celebrates the achievement of having created 1000?s of golfers in the Grantham area. That was borne out on this celebratory day with a huge turnout of families at the Medal Ceremony, when Competition Secretary, Steve Davis, presented the awards.
The overall winner of the Gold Medal, was young dad, Kev Woollas. The Silver went to Jack Dodwell. On a count back, the Bronze was clinched by Adam Tomlinson. Age group prizes went to others not in the Medals. Jon Machin, who lost the count back for Bronze, won the under 69 year section. From the field of 70 to 79 year olds, Tony Rose brought in the best card. Seniors? Captain, Ron Boxell came out best of the over 80 years. The Inactive Handicap section winner was Simon Hutton. The All Age Putting prize was shared by 14 year old Harry Glenn and Chris Winfield. Of the 9 youngest sudbrookmoor Tigers, for whom, in most cases, this was their first golf competition, Amelia Spicer (age 10) won the 9 to 11 year age group, and sister Phoebe (8) won the 8 years and under. Danny Harris (4) was runner-up. All junior putters, not in the prizes, deserve mention for excellent putting skills, sportsmanship and etiquette. Charlie Hare (10), Alicia Lewis (10), Tom Howes (11), Sam Howes (9), Tilly Lewis (8), Cameron Harris (7), Danny Harris (4). One year old, Jacob Dyson, is the youngest Tiger member and observed it all from the fringe of the putting green. He was presented with a large chocolate Gold Medal.